T-SERIES TEMPERATURE SWITCHES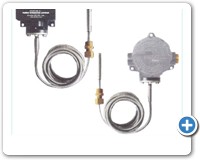 GAS / VAPOURFILLEDTHERMALSYSTEM

WIDE RANGE OFMEASUREMENTFROM
(-) 15'C TO (+)400'C.

DIRECTAND REMOTE MOUNTING

ROBUST AND PRECISE DEVICE

T-Series Temperature Switches are designed for use in arduous industrial environment. The gas / vapour frlled thermal system in combination with diaphragm sealed piston actuator offers stable measurement of temperature.

Actuation mechanism ensures precise switching of desired setpoints. Wide options of microswitches are available to handle different electrical ratirrgs. T-Series Temperature Switches are available withrigid stem for direct mounting or with flexible arrnoured capillaryfor remote mounting. Adjustable sliding compression gland allows easy installation and adjustment of immersion length.

Standard applications include Heat Exchangers, Evaporators, Heat Throwing, Pumps, Compressors, Furnace, Blowers, Air Dryers and so on.