PS / PSU Switches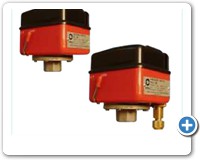 STURDY MECHANISM

TRIPLE POLE CUT-IN / CUT-OUT

DIAPHRAGM SENSOR

Series PS Pressure Switches are essentially meant for On-Off pressure control applications such as air compressor or water pump to control their working between the minimum and maximum setting values: at the maximum setting value, pressure switch contacts open and stops the motor, at the minimum value, pressure switch contacts close and starts the motor.

A specially contoured diaphragm senses the change in pressure and actuates a triple pole contact switch, which enables direct switching of 3 phase motors.

The setpoint (cut-out pressure) and resetpoint (cut-in pressure) are adjusted by a Range screw and Differential screw.

A pressure relief valve to relieve the pressure locked at the compressor cylinder head is available in Model PSU.

A hand lever is provided to lock the contacts in "OFF" position if required. When set to "AUTO" position, the pressure switch initiates normal operation.