RT SERIES TEMPERATURE SWITCH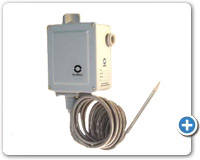 WIDE ADJUSTABLE RANGE

ADJUSTABLE ON-OFF DIFFERENTIAL

IN BUILT STURDY SNAP ACTION SWITCH

REPEATABILITY ±1%

WEATHERPROOF ENCLOSURE

RT Series of Temperature Switches have a vapour filled thermostatic element, which consists of a sensing bulb, capillary tube and a bellows element. The entire element contains a charge which reacts to temperature variations at the sensing bulb, so that pressure on the bellows increases on rising temperature. The bellows movement due to this increase in pressure is utilised to operate the switch.

Available in various ranges to control temperature upto 300°C, with high over temperature limits. RT temperature switches are available with a selection of capillary lengths. The vapour filled system features small bulb sizes making installation easy.

Wherever, bulb of temperature switch is exposed to pressure, corrosive fluid or high velocity, a thermowell must be used. Threaded or flanged thermowells, with length and materials as per application requirement are available.

RT series switches have an excellent record backed by our responsive manufacturing facility. Special application assistance is always available.

Applications include pumps, compressors, filters, evaporators, heat exchangers, lubrication systems, hydraulic systems, marine equipment, heating and air conditioning equipment, turbines, generators, circuitbreakers etc.