RT SERIES DP CONTROL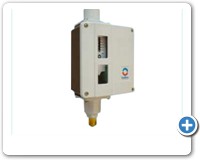 WIDE ADJUSTABLE RANGE

FIXED LOW ON-OFF DIFFERENTIAL

PRECISION SNAP ACTION SWITCH

HIGH REPEATABILITY

DOUGH MOULD COMPOUND (DMC) ENCLOSURE

WEATHERPROOF TO IP:66

RT Series of Differential Pressure Control utilise seamless bellows as the sensing element. Simplicity of design and ease of installation has been stressed for reliable use, even in applications where shock and vibrations are present. The sensing element can be used for a variety of process fluids.

RT Series have an excellent record for more than fivedecades backed by our responsive manufacturing facility.

Applications include pumps, compressors, filters, evaporators, heat exchangers, lubrication systems, hydraulic systems, marine equipment, heating and air conditioning equipment, turbines, etc.