IPS PRESSURE SWITCH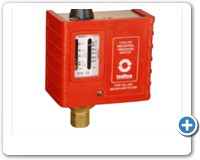 MICROSWITCH ACTUATION

REDUCED OVERALL SIZE

IMPROVED MECHANISM

Operating Function :
Industrial Pressure Switch (IPS) is an electromechanical device that senses changes in pressure and provides electrical contact closures at predetermined pressure values.

A hydraulically formed seamless Phosphor Bronze bellows senses the changes in pressure and actuates a snap acting microswitch at desired pressure settings. The cut-in and cutout points are adjustable over the entire range.

IPS Pressure Switch may be used to activate an alarm or may directly control the process. In an alarm application, the switch protects valuable equipment by an audible signal. In direct control application, the switch can be linked electrically to other equipment, for trip or interlock.