ELECTRONIC PRESSURE SWITCH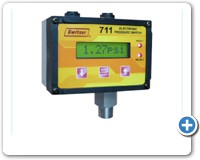 ANALOG OUTPUT

TWO SETPOINT RELAY OUTPUT

MULTIPLE UNIT SELECTION CHOICE

FULLY CONFIGURABLE VIA FRONT KEYPAD

SWITZER Model 711 Electronic Pressure Switch is a versatile electronic instrument matching with contemporary designs with all the fundamentally required features for basic control functions.

The instrument is provided with LCD indiacation, two independent set point On-Off control relsy outputs and analog output of 4 to 20mA. Operational settin are done through 3 keys on the front membrane keypad.

The stainless steel pressure sensor and wetted parts are compatible for both liquids and gases. Two relay switching output, with independent time delay settings, have status indication LEDs on front of the instrument. Both setpoint and deadband can be set throughout the calibrated range.

The instrument is weatherproof to IP65 and operates with DC power supply. The external electrical connections are through two polarized and lockable plug-in connectors.